Process Stock Adjustment
The adjustment feature in Connected Warehouse allows you to keep your stock list accurate across all selling channels. Businesses with multiple locations can scan all the sellable stock in their location and have the count reflect within the Connected Business system in real time.
You can also use the adjustment feature to reconcile stock that has been deemed unsellable due to a number of factors such as defect, expiration date, loss, and more.
Adjust Stocks Using Connected Warehouse
Tap the Adjustment icon in the Connected Warehouse app to load a screen that contains a search bar. You can use the search bar to enter a product's universal product code (UPC).

Click Image to Enlarge

Scanning the product's label using the barcode scanner is another method of entering a product for adjustment. In the default setting, entering the UPC or scanning the barcode once counts as a single quantity.

The product detail displayed on the screen will include the product name, the bin location where the product is stored, and the quantity of the product on hand.

Click Image to Enlarge

Your screen may also display a quantity input display that allows you to enter the quantity of items without having to scan each individual stock. A quantity input screen will appear when you scan or enter an item for the first time.

Click Image to Enlarge

To learn how to configure Connected Warehouse to display the quantity input screen, read the Getting Started document for Connected Warehouse.
Adjust Stocks Using Connected Warehouse
Every completed adjustment will automatically generate a document in Connected Business. To view the Adjustment records, open Connected Business and go to the Inventory module. Click Stock > Stock Adjustment > Find Adjustment.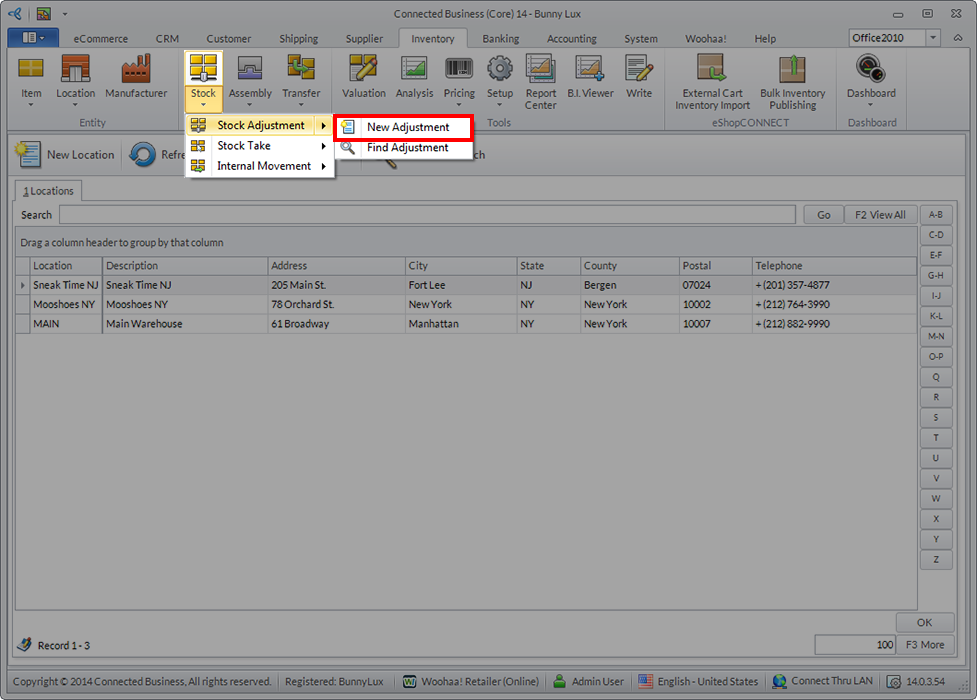 Click Image to Enlarge
You can then view the list of Adjustment documents in the Adjustment In or Adjustment Out tabs within the Adjustment window.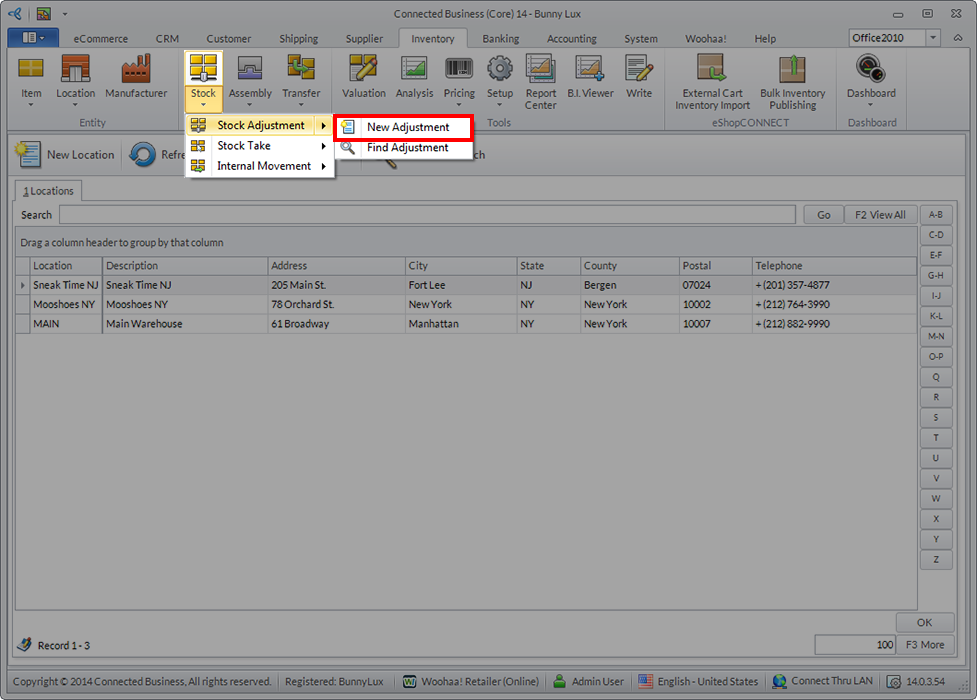 Click Image to Enlarge
To learn how to manage stock adjustments through Connected Business, read the online documentation titled Manage Stock Adjustments.